TABS™ II Wall Products and Short Form Specifications...
TABS™ Short Form Specifications
PART I: PRODUCT
TABS™ II panel is a structural galvanized steel support ledge and secure tie system for thin brick, tile, marble and granite. Prefabricated panels are available in 48" x 24", 48" x 48" and 48" x custom sizes.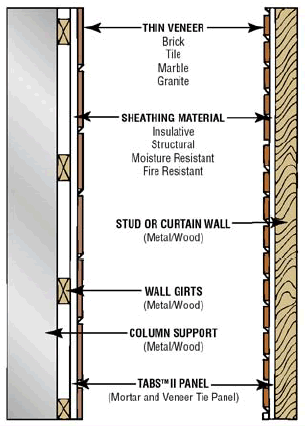 ---
PART II: MANUFACTURER
© TABS Wall Systems LLC. All Rights Reserved.
4515 Airwest Drive SE
Grand Rapids, MI 49512
office. 616-554-5400
fax. 616-554-5487
www.tabswallsystems.com
---
PART III: GENERAL
0.0 SCOPE
This is a short form specification and does not contain all of the information for proper installation and detailing of the TABS™ II system. For complete information refer to the Long Form Specifications or the TABS Product Guide. This is available through your distributor, dealer or the manufacturer.
0.1 Provide all necessary labor, materials and equipment to properly install the field applied and/or Panelized TABS™ II system.
2.0 QUALITY ASSURANCE
2.0.1 Warranty:
Manufacturer warrants the product to be free from defects in material and workmanship for a period of twenty years from the date of installation. For full terms and conditions of the warranty, see the Long Form Specifications.
2.0.2 Substrate:
Shall be engineered with regard to structural integrity and performance, and shall meet building code and manufacturer's requirements for application.
2.1 TABS™ II component parts:
Meets national building code requirements including: 1-CODES, BOCA, SBCC, ICBO, CABO, HUD-FHA and VA.
2.2 TABS™ II panel system:
Is tested and certified by code approved laboratories
2.2.1 Meets or exceeds the following criteria: Section 1405.9 of 1-Codes for adhered veneer. ASTM E72 Listed Positive wind loads up to 353 psf.
ASTM E-119 Listed 2 hour Fire Rating.
ASTM B117-03 Corrosion Resistance.
2.3 Product shall be installed by an approved contractor familiar with deisng requirements, materials, and referenced specifications.
---
PART IV: MATERIALS
3.1 TABS™ II thin veneer tie and support panel
3.1.1 panel shall be structural grade steel and coated with hot dip Zinc to a G-90 commercial grade.
3.1.2 panel will have support tabs sized for veneer thickness and adjustable ties for the veneer's dimensions.
3.1.3 panel shall be textured to provide weeping channels and moisture control.
3.2 VENEERS
Thin brick, tile, marble and granite will meet the appropriate ASTM/ANSI and building code requirements for the specific application.
3.3 TABS™ II ADHESIVE
(or equal) shall meet or exceed ASTM C-557, ANSI A 131.6 requirements and FHA-HUD use of Material Bulleting #60. Sheer bond strength between the total surface area of the veneer and the panel will not be less than 50 psi.
3.4 MORTAR or GROUT
shall be type S and modified with TABS™ II mortar additive (or equal) which will meet or exceed specifications for the application.
3.5 SHEATHING MATERIAL
if specified, shall meet the building code requirements and manufacturer's specifications for the application. See TABS™ II Long Form Specifications.
3.6 OTHER materials not specifically described herein, but required for a complete and proper installation shall be as recommended by the manufacturer and meet all appropriate codes and standards.
---
PART V: INSTALLATION
Products shall be installed as per instructions contained in the TABS™ II installation guide.